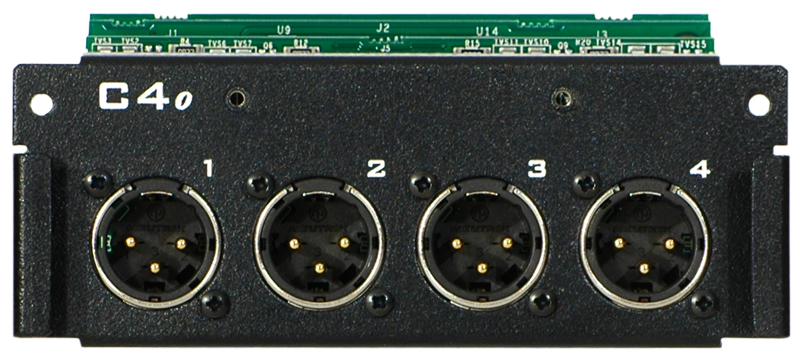 Features
Four XLR male outputs per card
Mic- or line-level out, per channel
Five output levels: +28dBu, +24dBu, +18dBu, +4dBu, and Mic
The C4o Analog Output Card provides four configurable mic/line-level analog outputs from the modular AllFrame system.
Install C4o cards in one or more slots of an AllFrame system's host F6 to provide output feeds to signal processors and amps when used on stage in a digital snake configuration. When used as a FOH output feed, AllFrame C4o cards are equally at home feeding the inputs to a mixing console at line-level or mic-level.
Product Details
The C4o is a four-channel analog output card for the AllFrame Multi-Modular I/O System. Each channel can be individually set to one of five output levels (+28dBu, +24dBu, +18dBu, +4dBu, or Mic) to maximize each output's flexibility when connecting to other components in the audio system.
The card's output levels can be set from the Pro64 Network Manager software using a simple drop-down menu. Simply select a level setting for an output on the card and it stays that way until you need the output level to be different for another application.
C4o Technical Specifications
Outputs
4 channels; XLR; Mic or line-level
XLR Outputs
Pin 1: Shield; Pin 2: Hot; Pin 3: Cold
Output Impedance
450 Ohms for +4dBu, +18dBu, +24dBu and +28dBu outputs;
200 Ohms for Mic
Output Levels
+28dBu, +24dBu, +18dBu, +4dBu, and Mic
Frequency Response
-3dB: 2Hz and 23kHz
±0.5dB: 10Hz-22kHz (at 1x sample rate)

THD+N
< .002% at -10dBFS
Signal to Noise
D/A: -111dB (unweighted)
Crosstalk
<100dB at 1kHz
Equivalent Input Noise (EIN)
-127dBu
Threaded Inserts
PEM FEOX-440;
Use size #4 machine screw with 40 threads per inch.
Dimensions
5.2 x 1.9 x 3.01 in.
132.08 x 48.26 x 76.45 mm
Weight
0.5 pound (0.22 kg)
Product Resources
Data Sheet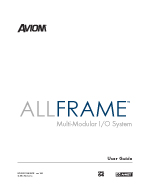 User Guide