High Performance Connectivity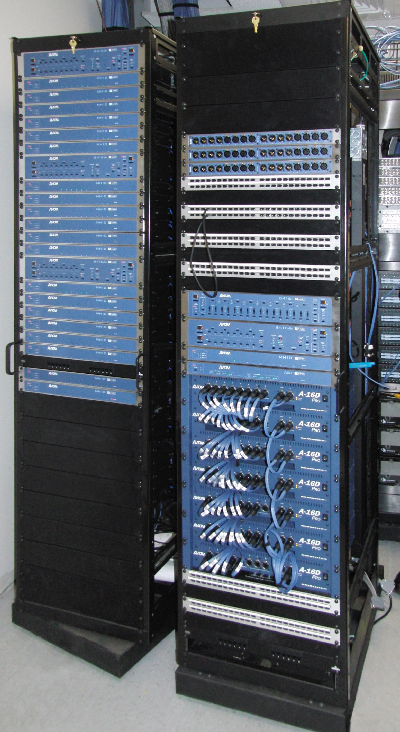 Aviom's Pro64® Series provides high quality, streamlined digital audio connectivity. Designed from the ground up for high fidelity, real-time, multi-channel audio, the Pro64 Series offers substantial benefits to system designers, installers, and end users alike, with simplified design, easy reconfiguration, consistently low latency, and outstanding audio performance.
No upstream or downstream limitations on signal flow
Flexible wiring, utilizing any combination of serial and parallel connections
Superior clocking with no jitter accumulation
Multiple mic preamp control options
Optional PC-based system management
Outstanding audio fidelity
Utilizing the Pro64 Series for your digital audio connectivity can deliver meaningful savings in design time and installation, as well as improve the performance of the audio system as a whole.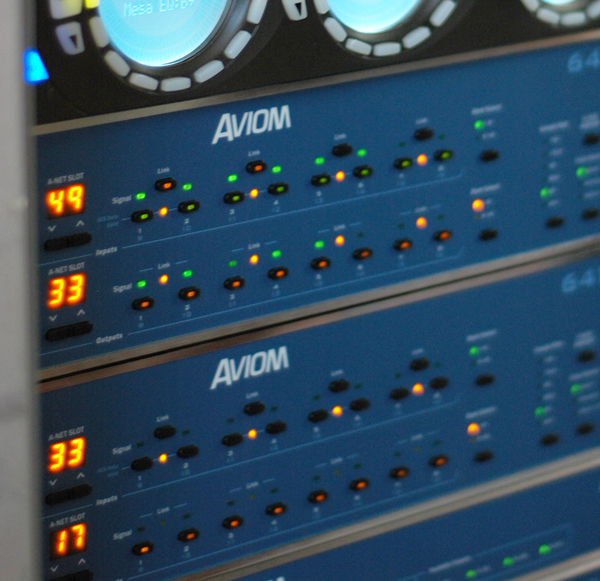 Unparalleled Audio Performance in a Network
Superior fidelity in a network requires careful attention to the audio signal at every stage of the signal chain. The Pro64 Series features clean, transparent mic preamps, pure A/D and D/A conversions, and revolutionary clock management algorithms that prevent jitter from accumulating as the audio signal travels through the network. What this means is that your network won't color your sound and will give you the sonic performance of a short, high quality analog cable.
Freedom in Design
Pro64 Series devices can be connected in any combination of serial and parallel wiring topologies, with no limitation on signal flow or availability based on physical location in the network. This means that I/O devices and control points can be placed anywhere you want and you can design a system according to the needs of the client not the arbitrary rules of the network.
AllFrame Multi-Modular I/O System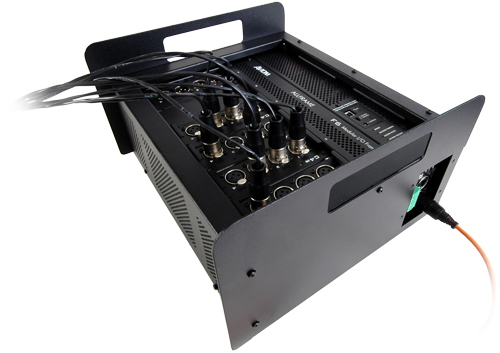 The AllFrame Multi-Modular I/O System replaces traditional analog I/O boxes with a modular digital solution that can be wall-mounted in a standard NEMA-style box, rackmounted, or used as a stagebox. It's the ideal answer for permanent installations in theaters, schools, conference centers, and the like, as well as touring and portable live sound. By digitizing the audio input signal where it connects to the network, the AllFrame system keeps analog cabling to a minimum, reducing system complexity and labor costs while delivering improved performance and flexibility.
Instead of soldering, terminating, and testing scores of analog connections, installing conduit, and pulling separate cables for each audio signal, the AllFrame requires only a single Cat-5e or fiber connection. The unit can be powered over the Cat-5e cable or from a dedicated DC power line, using an external power supply (sold separately).
Intuitive Control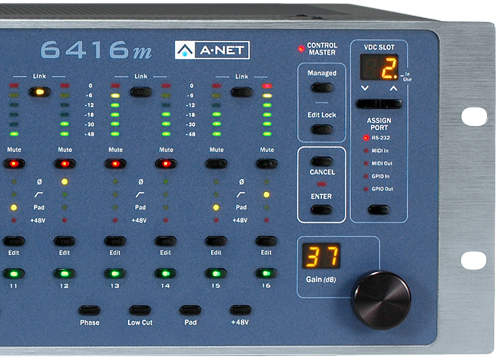 All Pro64 Series rackmount devices can be configured from their front panels, and an entire network can be up and running in a matter of minutes. For systems that require the flexibility of full crosspoint switching or the convenience of centralized system management, Aviom's Pro64 Network Manager™ PC control software can be utilized.
Additionally, Pro64 mic preamps can be controlled from the front panels (6416m), the MCS Mic Control Surface hardware controller, supported Yamaha digital consoles, or Network Manager. Mulitple control points—and control types—may be implemented in a system.