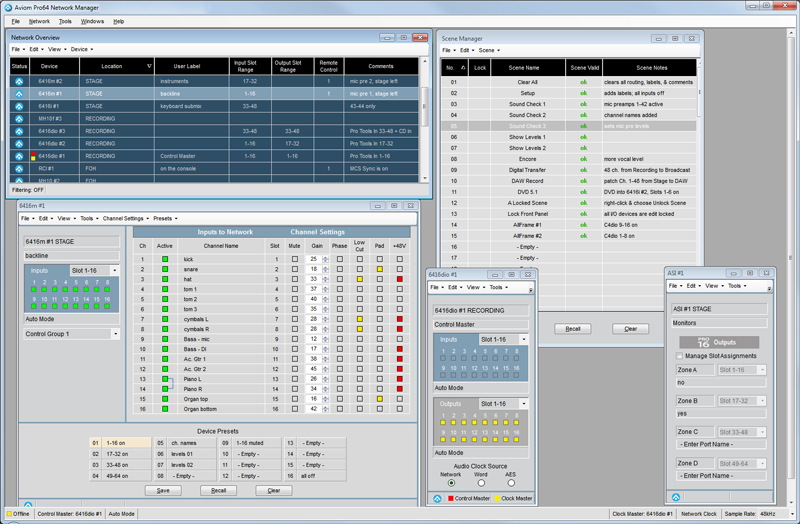 Features
View all active Pro64 network devices at a glance
Activate channels on any input device from a central location
Control mic preamps from a central location
Matrix allows crosspoint switching of inputs and outputs at every audio I/O device
Reconfigure an entire network with just one click using Scenes
Aviom's Pro64® Network Manager™ is a free PC-based application that provides status monitoring and control of a Pro64 digital snake or audio network from a central location.
The software provides complete access to all I/O devices in the digital snake or network, allowing the user to create and save settings for frequently used settings, matrix routings, channel names, etc.
Product Details
Pro64 Network Manager's intuitive, easy-to-use graphical interface provides a host of global and device-specific information to the user, making Pro64 system management simple. Individual device settings can be changed, saved and recalled from a central location without manual front panel adjustments, adding to the simplicity and flexibility of a digital snake or audio network.
Powerful, Streamlined Management
Pro64 Network Manager's Network Overview window shows the entire network at a glance, displaying channel ranges for all I/O devices and providing tools for sorting and naming devices and locations. Network-level settings, such as clock source and sample rate, can be easily monitored. Through this simple user interface, Pro64 Network Manager streamlines the management of both individual devices and the system as a whole. Audio settings, network assignments, channel names, and user labels can all be stored in a combination of network-level scenes and device-level presets.
Device Control
Settings for individual Pro64 devices are accessed through the Device Window, each of which is tailored to the features of the device type. Setup of more complex products, such as the AllFrame or 6416m Mic Input Module, is made even more efficient with a simple graphic view of the preamp channel strips. Pro64 Network Manager helps users track and allocate network resources more efficiently and speeds reconfiguration of individual devices and entire systems.
Crosspoint Switching at Every I/O Device
Pro64 Network Manager allows access to the crosspoint switch for every audio I/O device. Any hardware channel can be mapped instantly to any A-Net Slot in the network, either by selecting from a simple drop-down or typing in the assignment. The matrix also allows the four Pro16 outputs on the ASI A-Net Systems Interface to be individually assigned, making complex multi-zone monitor system feeds easy to configure. The Audio Slot Manager window allows users to see the entire network stream and to monitor and review all audio resources assigned to a given network slot.
Pro64 Network Manager Technical Specifications
Pro64 Network Manager is designed to run on a PC under Microsoft® Windows® XP and Windows 7. The minimum computer system requirements for Pro64 Network Manager are listed below:
Intel® or AMD® processor – 1 gigahertz (GHz) or faster
Intel, AMD, or 100% compatible motherboard & chipset
Microsoft® Windows® XP with Service Pack 3 (SP3), or Windows 7
2 gigabyte (GB) RAM (32-bit systems) or 4 GB RAM (64-bit systems)
125 MB of free hard disk space for full installation
DirectX 9 graphics device with WDDM 1.0 or higher driver
VGA Video (1024 x 768) - 256 colors
One available RS-232 port (or a USB port with a compatible
USB-to-RS-232 adapter)
DB9-DB9 null modem cable (rack-mount devices and 6416Y2)
USB cable (AllFrame devices)
The free Adobe Reader (or equivalent) is required to open the
included User Guide from the help menu
.Net Framework 3.5
If your PC does not have the .NET Framework 3.5 components installed, an Internet connection may be required to download and install these Microsoft components.
Macintosh
There is no official support for Pro64 Network Manager running on Apple® Mac computers. Experiments with a Mac running the Windows OS and the third-party Parallels software have had positive results, but there is no guarantee of acceptable performance at this time.