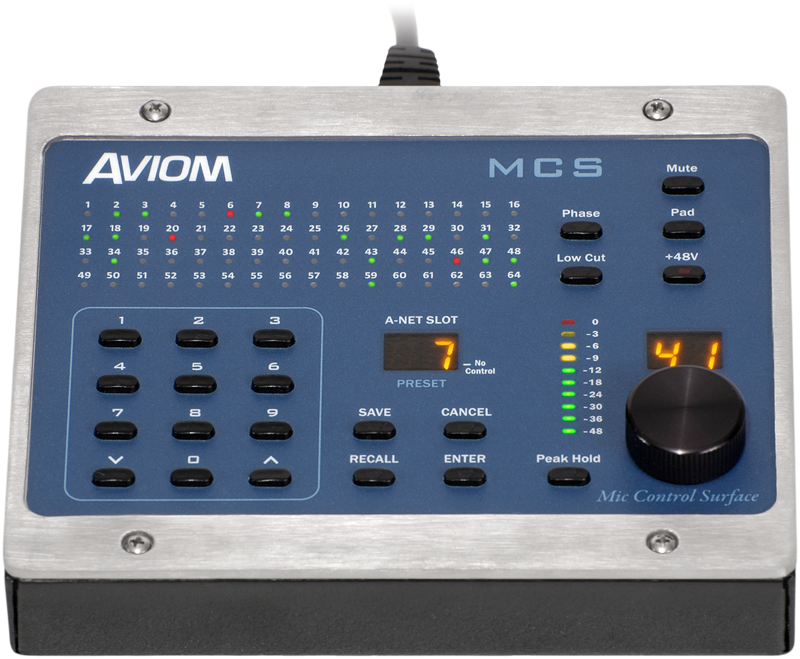 Features
Full real-time control of the selected channel's gain, phase, mute, pad, +48V phantom power, and low cut filter
Real-time metering of 64-channel network stream
High resolution metering of selected channel
Switchable peak hold
Monitor up 64 active Pro64 network channels simultaneously
The MCS Mic Control Surface is a hand-held device that provides remote control of mic preaamps in the AllFrame and 6416m Mic Input Modules in a Pro64 digital snake or audio network. It also serves as a network activity monitor, showing the entire 64-channel Pro64 network and alerting the operator of any signal level problems.
At least one RCI Remote Control Interface is required in the network to connect the MCS.
Product Details
The MCS connects to the RCI Remote Control Interface with a single Cat-5 cable.
Audio channel strip settings for each active Pro64 mic preamp channel—gain, phase, low cut filter, 24dB pad, +48V phantom power, and mute— can be controlled from the MCS. Sixty-four bicolor LEDs provide real-time status monitoring of the full 64-channel Pro64 network stream, while a high resolution meter provides detailed monitoring of the selected channel's signal level. All level meters include a switchable peak hold.
Control Options
A single RCI and MCS can be used to control up to 64 channels of mic preamp inputs, regardless of their location in the network. Alternatively, any number of RCI Remote Control Interfaces can be installed throughout a Pro64® network, providing multiple control points. The Control Group function allows control of active mic channels to be divided among up to four different simultaneous users and control points.
The MCS requires the RCI Remote Control Interface to be used with a Pro64 network and connects to the RCI using a standard Cat-5e cable.
MCS Technical Specifications
Controller Port
EtherCon RJ45, Connects to RCI (required)
Channel Level
64 bicolor LEDs
High Resolution Meter
10-segment, -48 to 0dB
Peak Hold
On/Off
Gain Control
     
Rotary, per mic preamp channel, in 1dB steps
Channel Controls
     
Phase On/Off
Low Cut Filter On/Off
24dB Pad On/Off
+48V Phantom Power On/Off
Mute On/Off
Preset Management
     
Save/recall 16 presets; stored in the 6416m Mic Input Module
A-Net Cable Length
400 feet (120 meters) between devices (Cat-5e)
Dimensions
6"w x 5"d x 1.5"h (152.4 x 127 x 38.1mm)
Weight
2 pounds (0.91 kg)