Choosing an A-Net Distributor For Your System
A-Net Distributors are used to provide multi-channel A-Net data and DC power to the Personal Mixers in your system. Which one you'll choose depends to some extent on the type of input devices that your system uses: analog, digital console card, or Dante™ network. Each A-Net Distributor can support up to eight Personal Mixers; you can use as many A-Net Distributors as necessary for larger ensembles.
D400 A-Net Distributors
Powerful Connectivity.
More Affordable Than Ever.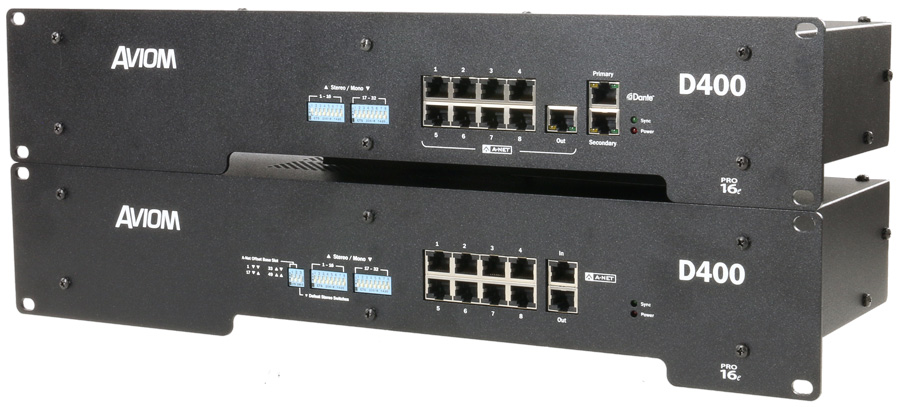 D400 at a glance:
One A-Net In, one A-Net Out
A-Net Offset for shifting the base slot for audio going to Personal Mixers
Lowest cost
D400-Dante at a glance:
Up to 32 Dante inputs at 44.1/48kHz
One Dante Primary; one Dante Secondary
One A-Net Out
Simple, cost-effective connectivity for Aviom Personal Mixers
Provides DC power and audio data to up to 8 Personal Mixers
Unpowered A-Net Out for connecting additional A-Net Distributors
Stereo link switches for assigning stereo channels to Personal Mixers
Compatible with A640, A360, A320, and A-16II Personal Mixers
D800 A-Net Distributors
Simple setup.
Powerful performance.

D800 at a glance:
One A-Net In, with A-Net Bridge
16-channel A-Net Mixes Out
Ethernet port
D800-Dante at a glance:
Up to 64 Dante inputs
44.1/48, 88.2/96, 176.4/192kHz, with sample rate converters
Network Mix Back™ 16 channels to Dante network
Network Mix Back™ for seamless integration of wireless in-ear monitors - analog or Dante
Ethernet for integration of A360 Display™ for iOS®
A-Net Bridge input for combining streams from up to four synchronous Pro16 sources
Universal switching power supply
Compatible with A640, A360, A320, and A-16II Personal Mixers
A-Net Distributor Comparison Chart
D400

D400-Dante

D800

D800-Dante

A-Net In Compatibility

Standard Pro16 A-Net

yes

- -

yes

yes

Pro16e A-Net

yes

- -

yes

yes

A-Net Bridge

- -

- -

yes

yes

Dante Interface

Channels

- -

32

- -

64

Sample rates

- -

44.1/48kHz

- -

44.1/48kHz

88.2/96kHz (32 ch.)

176.4/192kHz (16 ch.)
with SRC

A-Net Out

yes

yes

yes

yes

Configuration Options

Stereo links

32 channels

32 channels

- -

64 channels

A-Net Offset

yes

- -

- -

- -

Additional Functions

Network Mix Back

- -

- -

via A-Net

via A-Net and Dante

iOS support

- -

- -

yes

yes

Physical Features

RJ45 connectors

Standard

Heavy duty locking for all digital audio ports

Power supply

Internal, switchable

Internal, universal switching