16 mono or stereo sources
32-channel mix engine
Per-channel volume and Stereo Placement
Eight customizable mix presets
Three-band master tone controls optimized for in-ear monitors
Per-channel solo and mute
Compatible with existing Aviom personal mixing systems

Need In-Ears? Get the Bundle!
The A320 Personal Mixer is also available in a bundle with a set of MEE Audio M6 Pro IEMs. These great sounding single-driver earbuds feature a detachable, replaceable cord and come with an assortment of flexible ear tips that reduce outside noise and allow you to easily find the most comfortable fit for your ears. Each set also includes custom-engraved metal faceplates and a protective case.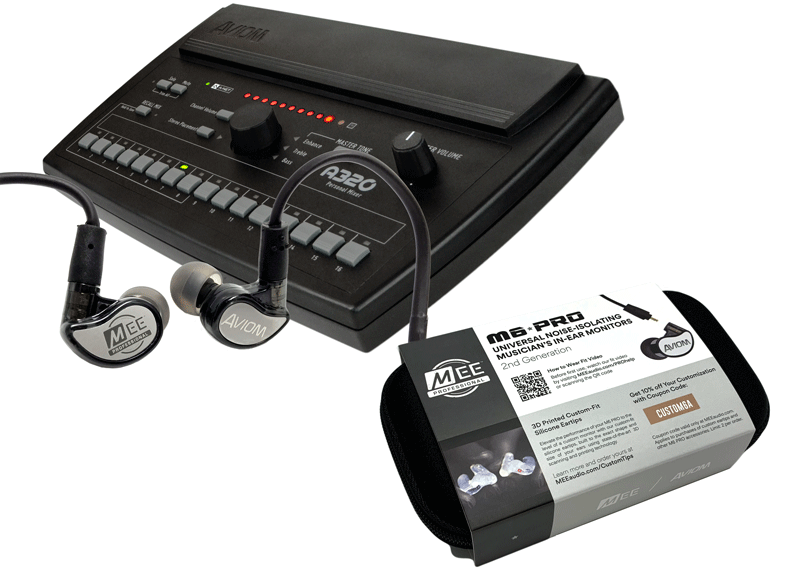 Compatibility

The A320 Personal Mixer is forward and backward compatible with most Aviom Pro16 and Pro16e devices*. This includes:
AN-16/i v.2 Input Module
Y1 Card for Yamaha MY devices
A-Net Console cards from Aviom's development partners
D400 & D400-Dante A-Net Distributors
D800 & D800-Dante A-Net Distributors
Legacy Devices:
AN-16/i Input Module
AN-16/i-M Mic Input Module
A-16D A-Net Distributor
A-16D Pro A-Net Distributor
The A320 may also be used in the same system with the A640, A360, and A-16II Personal Mixers.
* The A320 Personal Mixer must be connected to an A-Net Distributor to operate. It does not support an external DC power supply.
Product Images