Choosing the right
Aviom Personal Mixer
Aviom Personal Mixers deliver outstanding performance on stage and in the studio, allowing musicians to hear better while reducing the workload for the engineering staff. All Aviom Personal Mixers are fully compatible with one another—including legacy A-16II mixers—so you can find the right balance of power, simplicity, and budget for every performer in your ensemble.
A640 Personal Mixer

Mixing Power That's Easy to Use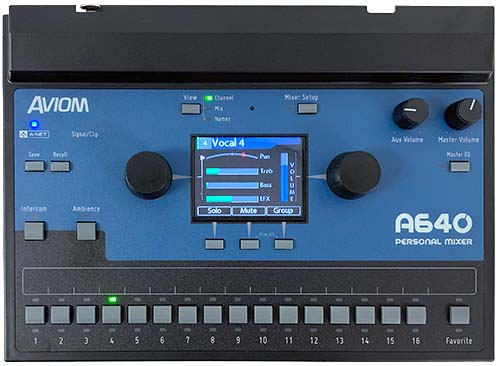 The A640 Personal Mixer combines a powerful mix engine with an intuitive user interface with a built-in color hi-res display that doesn't get in your way while performing. It's the most flexible personal mixer we've ever offered.
Choose the A640 to:
Get the clearest, most natural sound, especially with in-ear monitors
Give performers the most powerful and easy-to-use monitor mixer
Add ambience audio to your mix, without sacrificing other mix sources
Control volume and stereo placement for up to 18 mono or stereo sources
Get the most precise control over your mix, with per-channel treble, bass, and reverb controls, as well as independent control of pan and spread for stereo sources
Customize the selection of mix sources for each musician
Communicate with other A640 users with the Intercom feature
Customize channel selection for each A640 from up to 64 network channels
Use Network Mix Back™ for seamless connections to wireless in-ear monitors
Easily connect a subwoofer or bass shaker with a custom Aux Mix output
Store your mixer's settings and configurations on a USB drive
A320 Personal Mixer

Great Sound at a Great Price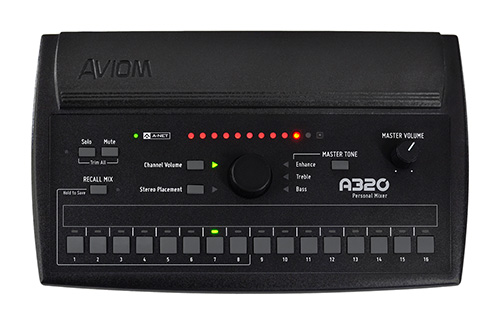 With many of the features of Aviom's flagship A640 and A360 Personal Mixers, the A320 gives musicians outstanding monitor mixes every time they play, at a price more affordable than ever. With the simplest user interface and a streamlined feature set, the A320 is a great choice for musicians who want clear, natural sounding monitor mixes without a lot of fuss.
Choose the A320 to:
Give musicians simple, effective control over their monitor mixes
Control volume and stereo placement for up to 16 mono or stereo sources
Keep overall system costs down
Replace a legacy A-16II with plug-and-play ease
Aviom Personal Mixer Comparison
A320

A360

(Discontinued)

A640

Channels

Mix channels

16 mono or stereo

17 mono or stereo,
plus ambience

17 mono or stereo,
plus ambience

A-Net Network sources in

Up to 32

Up to 64

Up to 64

Programmable channel selection

-

✓ with A360 Channel Manager app

✓ Built in

Channel Mix Controls

Color Hi-Res Display

-

-

✓

Volume

✓

✓

✓

Pan for Mono Sources

✓

✓

✓

Stereo Placement for
Stereo Sources

Combined Pan and Spread

Pan and Spread

Combined Pan and Spread

Mute

✓

✓

✓

Solo

✓

✓

✓

Reverb

-

✓

✓

Tone

-

✓

Treble

-

-

✓

Bass

-

-

✓

Groups

-

4 per preset

4 per preset

Special Channels

Dual Profile Channel™

-

✓

-

Ambience Mic

-

✓

✓

Favorite Channel

-

-

✓

Intercom

-

-

✓

Aux Mix

-

✓

Programmable

Saving and Recalling

Standard Mix Presets

8

16

16

Instant Mix Recall Presets

-

4

Save/Load Configurations

-

16

32

Import A360 Configurations

-

-

✓

USB

-

✓

✓

Master Output

Stereo 1/4" headphone

✓

✓

✓

Stereo 1/8" headphone

✓

✓

✓

Mono Mix Out, XLR

-

✓

✓

Master EQ

Bass, Treble, Enhance™

Bass, Treble, Enhance

Bass, Treble, Enhance

Network Mix Back™ (requires D800)

-

✓

✓