A360 Personal Mixer
(Discontinued - replaced with the A640 Personal Mixer)
Aviom's Personal Mixers are the industry standard solution for personal mixing on stage and in the studio worldwide. The A360 Personal Mixer delivers an unparalleled level of control, performance, and fidelity to personal mixing. With more mix channels, powerful features, and the streamlined user interface Aviom Personal Mixers are known for, the A360 helps musicians hear better than ever before. It's compatible with all existing Aviom systems and can be used simultaneously with the A640, A320 and/or A-16II Personal Mixers.
Learn about product compatibility with your existing system.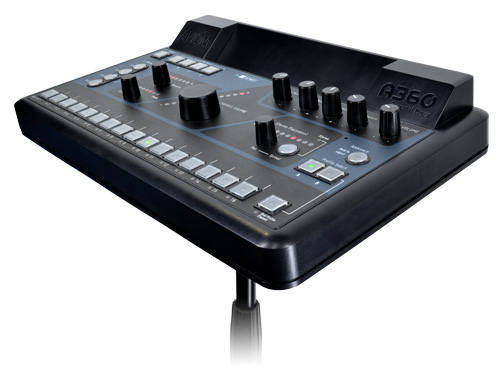 Customizable channel selection from up to 64 channels
36-channel mix engine for up to 17 mono or stereo sources plus ambience
Four Instant Mix Recall™ presets plus 16 standard presets
Per-channel volume, reverb, tone, and Stereo Placement with independent pan and spread control
One-Touch Ambience™ using network audio or the onboard mic
Dual Profile Channel™ for each musician's favorite or most important channel
USB for loading custom configurations
Three-band master tone controls optimized for in-ear monitors
1/4" and 1/8" stereo mix out plus XLR mono mix out
Support for Network Mix Back™ and A360 Display™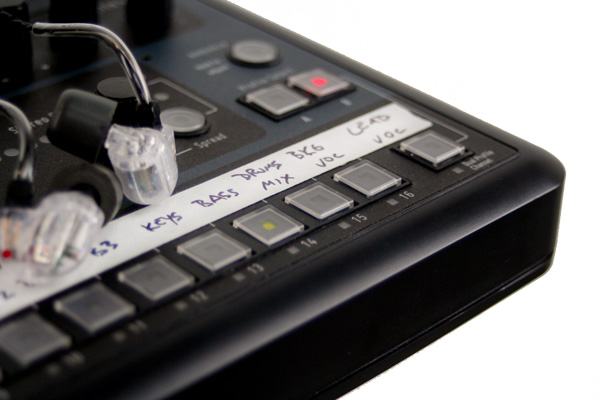 Mixing power made for musicians
The A360 gives musicians a powerful combination of power and simplicity. Even the most demanding musicians can get the mixes they want, with rich sound and outstanding clarity. And it's all in a package that's easy to use, even while you're focused on singing or playing.
Choose the channels you want to mix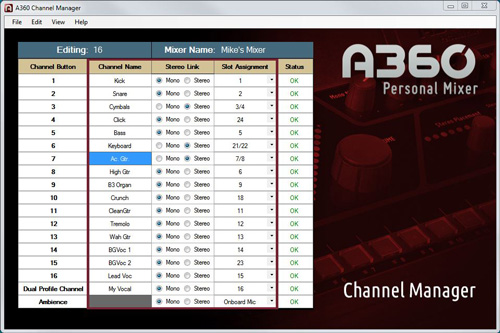 Under the hood, the A360 has a mix engine with loads of power, so you don't have to make compromises in your mix. Every user can select exactly the sources they want to mix—from up to 64 of them—so drummers can have lots of drum channels and the vocalists can have lots of vocal channels. The free A360 Channel Manager makes it easy to create custom channel maps. Read our Using A360 Channel Manager blog post for more info.
Hear each source more clearly
Each A360 mix channel can host a mono or stereo source and may be adjusted for volume, stereo placement, tone, and reverb. With more control over each channel, you get a better sounding mix fast.
Stereo fidelity in every channel
Each mix channel on the A360 can be either stereo or mono—which means you don't have to give up the fidelity of your stereo keyboards, guitar effects, or submixes in order to save channel space on your personal mixer.
Every audio source can be heard in full stereo fidelity without taking up additional space on the mixer. This both ensures that every channel sounds its best, improving the fidelity of the overall mix as well, and frees up space for more mix content—without adding more complexity for the musician.
Get to your favorite channel—or settings—faster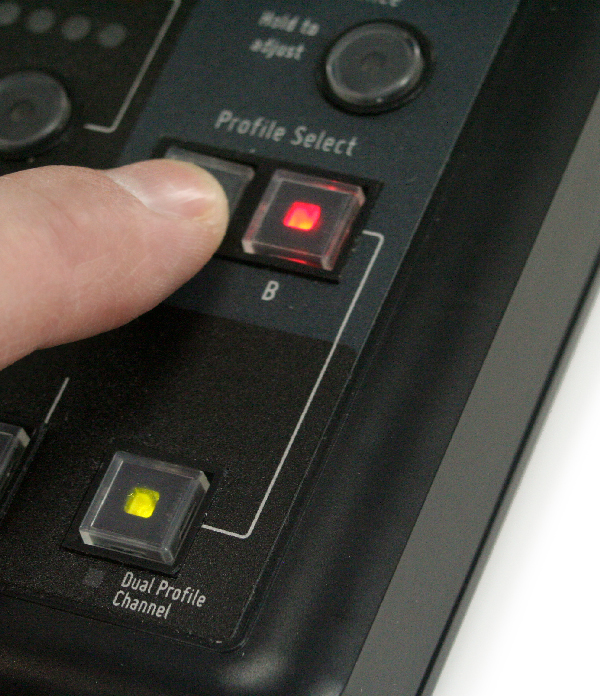 The A360's Dual Profile Channel reserves prime real estate for each musician's favorite or most important channel, so you don't have to spend even a beat looking for it.
As a bonus, the Dual Profile Channel also offers two sets of mix settings for that channel, instantly accessible through the A or B profile select buttons. In a single touch, you can make your channel louder, brighter, and wetter.
Explore the Dual Profile Channel in depth:
An Introduction to the Dual Profile Channel
Exploring the A360 Dual Profile Channel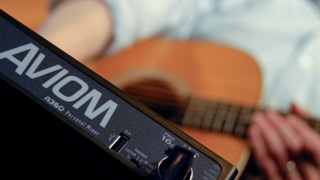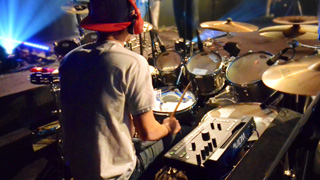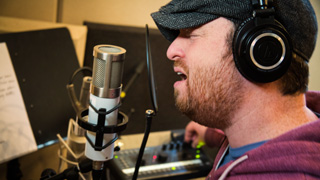 Get more out of your in-ears
The reality for many musicians is that the switch from a wedge to in-ears can be disappointing. The A360 can change all that. Designed from top to bottom with in-ear monitors in mind, the A360 gives musicians the controls they need to make their in-ears sound better than ever.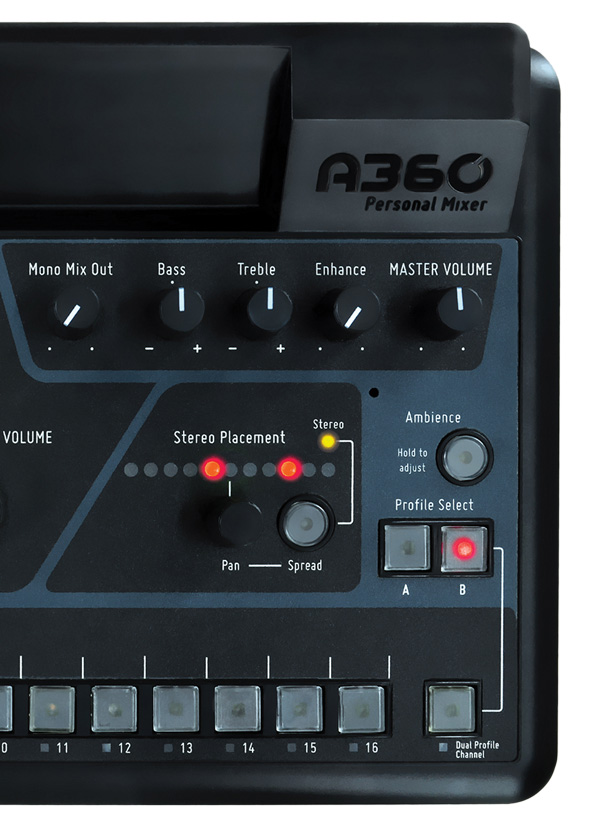 Make in-ear monitors sound rich and full
The EQ curves for the master tone controls on the A360 were designed specifically for the sonic characteristics of in-ear monitors. The A360's master Bass, Treble, and Enhance™ tone controls will make your in-ear monitors sound fantastic no matter what kind of music you play.
Add space to your ears
The A360's per-channel reverb control lets you easily restore some of the spaciousness your ears naturally expect. This feature, combined with the A360's powerful Stereo Placement™ controls, gives in-ear monitor users a whole new monitoring experience.
With high-resolution panning for mono channels and the independent pan and spread control for stereo channels, every source can be positioned precisely in the mix's stereo field, reducing musicians' sense of isolation and improving the clarity of the entire mix.
Reconnect with your audience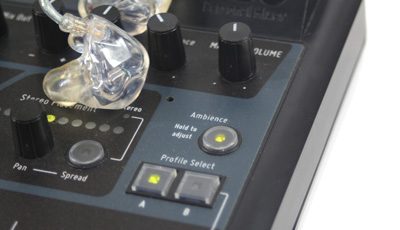 One-Touch Ambience is an easy way to add ambience to your mix when you want it. Use the built-in ambience mic or set up room mics and assign those channels to the One-Touch Ambience controls on your A360 with the free A360 Channel Manager software. Either way, because the A360 mix engine reserves space for ambience audio, you don't have to sacrifice any other mix sources to add ambience.
Feel your in-ear mix
The A360's Mono Mix Out has a dedicated volume control and XLR connector. You can use it for a powered wedge, but it's even better for adding a tactile transducer (bass shaker). Musicians can once again experience the tactile feedback they may be used to when using a floor wedge or speaker cabinet while still enjoying the clarity and convenience of in-ear monitors. And Aviom makes it easy with the BOOM-1 Tactile Transducer Processor.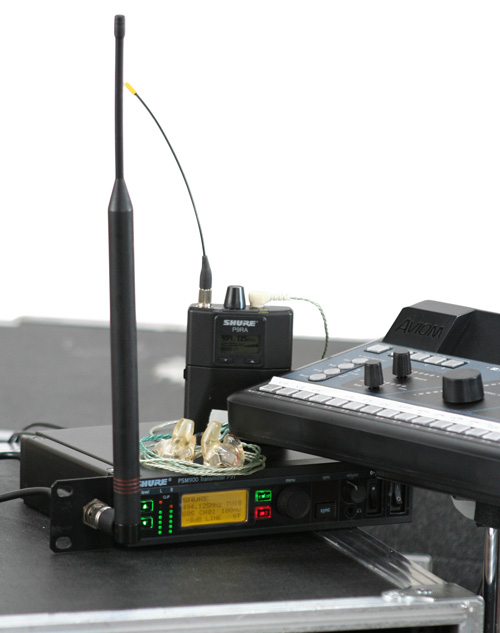 Simplify connections to wireless in-ears
In systems that include a D800 or D800-Dante A-Net Distributor, Network Mix Back can be used to eliminate analog connections from the A360 to transmitter units for wireless in-ears.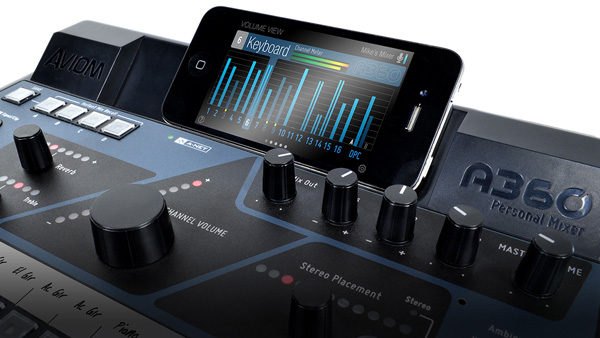 Extend the interface with iOS
A360 Display is an iOS® app that augments the hardware interface with multi-channel views that show each channel in the context of the mix as a whole.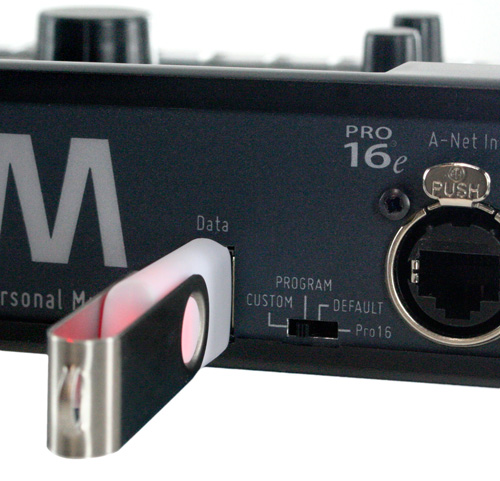 Take your mix with you
Save everything about your mixer—mix settings, channel assignments, names—to a USB thumb drive for safekeeping or transferring to another unit. It's never been easier for multiple ensembles to share personal mixers or for those on tour to be sure their mix settings are preserved from show to show, even if you're using rental gear.
How it works
Audio is taken from your existing console and distributed to the personal mixers using standard Cat-5e cables. Set-up and configuration is all plug-and-play easy, and you don't need to worry about managed network switches, IP addresses, or latency accumulation.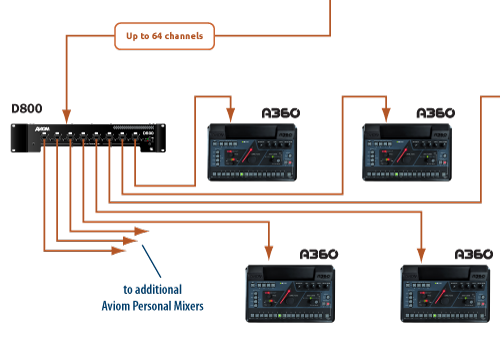 Compatibility

The A360 Personal Mixer is forward and backward compatible with most Aviom Pro16 and Pro16e devices. This includes:
AN-16/i Input Module
AN-16/i v.2 Input Module
AN-16/i -M Mic Input Module
Y1 Card for Yamaha MY devices
Console cards from Aviom's development partners
A-16D A-Net Distributor
A-16D Pro A-Net Distributor
D400 & D400-Dante A-Net Distributors
D800 & D800-Dante A-Net Distributors
The A360 may also be used in the same system with the A640, A320 and
legacy A-16II Personal Mixers.
Technical Specifications
Audio Output
1/4" TRS stereo, headphone or line level;
1/8" TRS stereo, headphone or line level;
XLR balanced mono, line level
Stereo Mix Outputs, Headphone/Line
Tip: Audio Left; Ring: Audio Right; Sleeve: Ground
Mono Mix Output
Pin 2: Hot, Pin 3: Cold; Pin 1: Ground
A-Net
1 A-Net In, EtherCon RJ45 connector;
Supports Pro16 and Pro16e
Supports Power Over A-Net
Digital to Analog Conversion & Bit Depth
44.1/48kHz, 24-bit
Stereo Operation
Stereo Link, per channel pair;
Set at the input module;
Variable pan per mono channel or pan/spread per stereo channel pair
USB Storage
Save/load mix configuration data and mixer presets;
Firmware updates
Requires USB compliant mass storage device, formatted for PC
Headphone Output
1.0 watt at 100 ohms
(Line/Headphone output)
Output Impedance
32 ohms
Frequency Response
2-22kHz +0.2dB/-3dB
THD+N
< 0.003%
Signal to Noise (unweighted)
-106dB (measured with zero data into all channels)
Latency
<0.880 msec (measured from analog input to analog output)
Pro16e A-Net
Use unshielded Cat-5e UTP (or better) cable;
Maximum 400 ft (122 m) between devices;
Power Supply
Input Voltage
Output Voltage
Plug Size
Optional; DC, universal switching type
100-240 volts, 50/60Hz
24 VDC, 0.5 amp
2 mm
Dimensions
11" (279.4 mm) wide x 6.9" (175.26 mm) deep;
1.835" (46.61 mm) high
Weight
3.4 lb (1.54 kg)

Options
MT-1a Mic Stand Mount (uses 6-32 1/4-inch screws)
EB-1 Extension Bracket
PS-120/PS-240 Power Supply
Product Images
Product Resources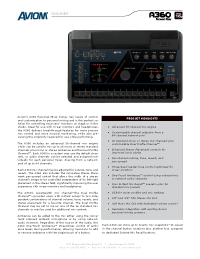 Data Sheet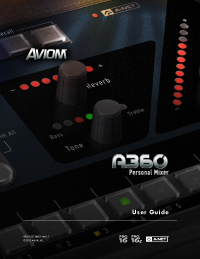 User Guide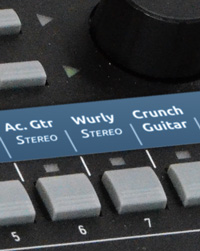 Label Strip Template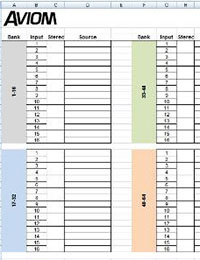 Input List Worksheet