Aviom Personal Mixing
Whether you're building a system for stage or studio, all Aviom personal mixing systems utilize the same building blocks and follow the same basic signal flow. All A-Net digital audio is distributed using standard Cat-5e cables, and all Aviom personal mixing gear can be easily integrated into almost any audio system.
Each A-Net Distributor takes the digital audio signal and provides A-Net and DC power for up to eight Personal Mixers. From there, the audio signals are distributed to the Personal Mixers on standard Cat-5e cables using A-Net®, Aviom's digital audio protocol specially designed to distribute multi-channel audio without any meaningful latency and without any hassle for you. It's plug-and-play simple.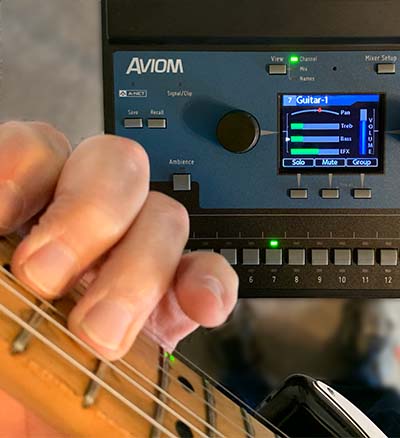 Customized mix control
at your fingertips
With an Aviom personal mixing system, every musician has the freedom to adjust their monitor or cue mix whenever they want—without affecting anyone else and without depending on an engineer. Want more lead vocal? Less bass? Need to adjust the stereo imaging of the guitars? With an Aviom Personal Mixer, it's all just a touch away. All Aviom personal mixers are designed with the performing and recording musician in mind.
Getting Audio Into the System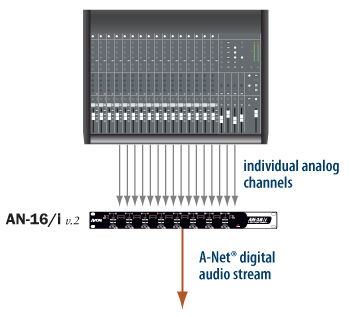 There are three ways to get audio into an Aviom system—analog, a digital console card, or a Dante network.
An Aviom input module takes your existing audio sources, converts them to digital and outputs the digital audio over a single Cat-5e cable using Aviom's A-Net technology. A console card allows you to route audio from your digital mixing console in the digital domain directly to an Aviom A-Net output. If your audio system includes a Dante™ audio network, you can interface directly to Dante using one of Aviom's Dante-enabled A-Net Distributors.
Each analog input module or console card supports up to 16 input sources. Multiple input modules or cards may be combined in a single system.
Aviom makes an interface card for Yamaha digital consoles, and many other leading digital audio console manufacturers license Aviom's A-Net technology and offer an interface option for connecting to Aviom personal mixing systems to their products. For more information, refer to our Partner Products page.
Distributing Audio to Personal Mixers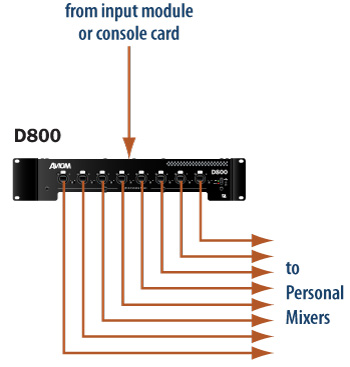 An A-Net Distributor takes the A-Net digital audio data from the input source (Dante network, analog input module, or digital console card) and provides multiple copies for individual personal mixers. As a bonus, the A-Net Distributors provide DC power to the personal mixers over the same Cat-5e cable used for the audio feed.
Each A-Net Distributor can support up to eight personal mixers, but if you need more personal mixers, you can connect as many A-Net Distributors as you need. Learn more about expanding your system. There is no limit to the size of an Aviom network.
Mixing and Getting Audio Out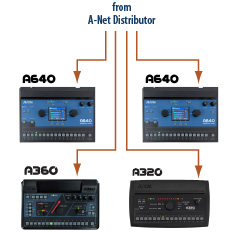 A640, A360, A320, and legacy models of Aviom personal mixers may be combined in a single system, allowing you to choose the mixer with the feature set best suited for each performer. Connect in-ear monitors, headphones, or powered speakers directly to each personal mixer's audio output or, to streamline connections from A640s and/or A360s to wireless in-ear monitors, use the Network Mix Back feature with the D800 and D800-Dante.
Basic 16-Channel System
Analog Console with one AN-16/i v.2 or
Digital Console with one console card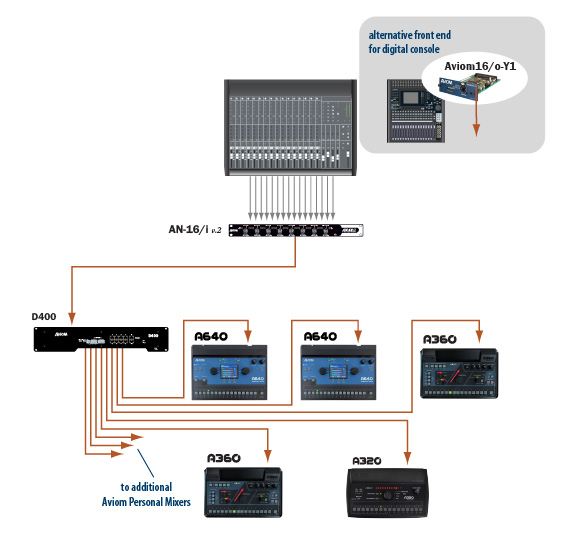 Expanded Channel Analog System
Analog Console with two or more AN-16/i v.2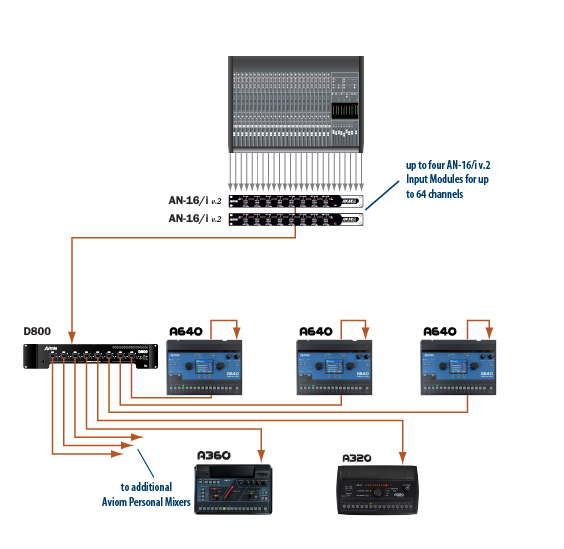 Expanded Channel Digital System
Digital Console with two or more console cards (requires SB4 System Bridge)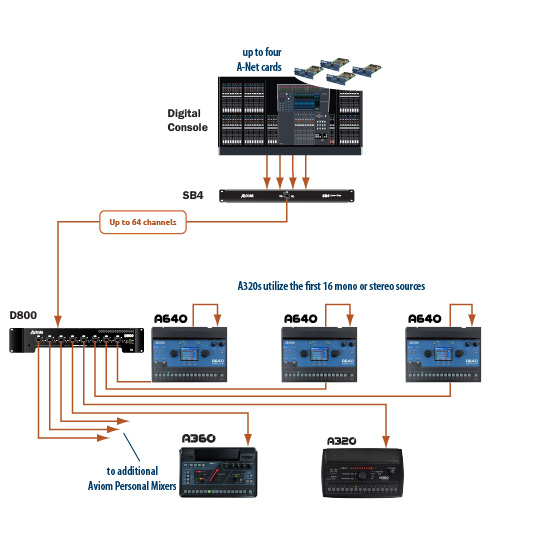 Dante Network System
Up to 64 input sources at 48kHz