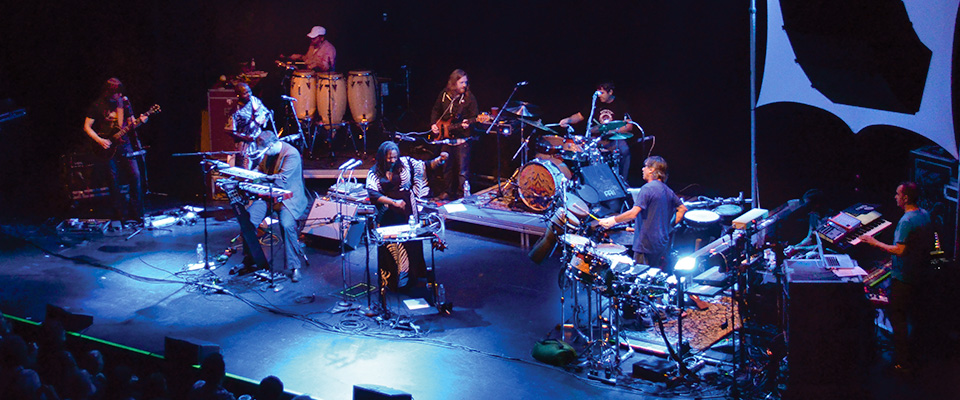 The Mickey Hart Band wrapped up their 2013 Superorganism Tour with the transition from Aviom A-16II Personal Mixers to A360 Personal Mixers on stage. The band had been using A-16IIs for several years, and when monitor engineer Elijah "LT" Topazio heard that Aviom had a new personal mixer, he was excited to try them. While at first the band was a bit concerned about making the switch from their trusted A-16IIs to something new while they were on the road, they decided to go for it. Here's what LT, drummer Greg Shutte, keyboardist and vocalist Joe Bagale, and lead vocalist Crystal Monee Hall have to say about their A360 Personal Mixers.
The Engineer's Perspective
Aviom: Tell us a little bit about why you first incorporated an Aviom personal mixing system into your setup.
LT: When we started off, we had 13 open mixes on stage with 42 open microphones, which just created a lot of feedback issues. We were trying to tour more efficiently, and so the band came up with the idea to buy their own console. It worked out perfectly with the Aviom system and an A-Net card installed to send 16 channels out through one Cat-5 cable. It alleviated a lot of problems for us as a touring band coming into different venues night after night. Using different gear at each venue just wouldn't have worked for this band, and the Aviom system allowed us to tour more efficiently.
Aviom: You made the switch from the A-16II Personal Mixers on stage to the A360 Personal Mixers while your were out on tour. Was this a smooth transition?
LT: When the A360s first came out, I told Mickey that I was going to stick with the A-16IIs because making the change was really something we needed some time to adjust to in the studio when we had time for rehearsals. But then we got the courage to just put them out on stage and decided to just go for it. Within the first ten minutes of having them up, everyone said they wanted to just go with it. The A360s came up patched exactly the way that I wanted them to, so it was really a fast transition.
Aviom: As the band's monitor engineer, LT, what are the benefits of having Aviom personal mixers on stage?
LT: Well, I spend about 45 seconds of every minute focusing on Mickey and about 15 seconds scanning the rest of the stage, so the Aviom personal mixers have allowed me to focus a lot more of my attention on Mickey. I have great musicians that are all great engineers and great ears. They have been able to give me positive feedback on how to make their mixes better, and then we just kind of leave each other alone. It's been a match made in heaven for this band.
What the Musicians Experience
Aviom: What has been your experience with the switch from the A-16IIs to the A360s? Are there specific features of the A360 that you like?
Greg: Well, I was really happy with the A-16II. As a drummer, it was really easy to access and to make adjustments while I was playing. With the A360 it still is. But the minute LT hooked up the A360s, the fidelity opened up and became warmer and more three-dimensional. I am really enjoying the ambience feature on the A360s. We don't have any ambience mics that we blend in, so I feel like I can be in my own little world. The ambience now brings in some drum set, but it also brings in the room a little bit so I can feel the space a little more. That's a nice new feature.
Joe:The A-16IIs worked great. We were all kind of in the mindset of if it ain't broke, don't fix it. Then we tried the A360s, and they are significantly better. I like being able to add reverb to my voice in my mix. I also love how much more spreading you can do with the Pan-Spread control.
Crystal: I like the Pan-Spread control too and use it all the time. I used to try to adjust the pan based on how everybody was set up on stage, but now with more space, I can actually decide where I want to hear each thing. And the ambience feature is amazing. This is my first gig using in-ear monitors. I was with wedge people forever, and switching over was a little bit weird. Now with just a little bit of ambience, it's perfect.