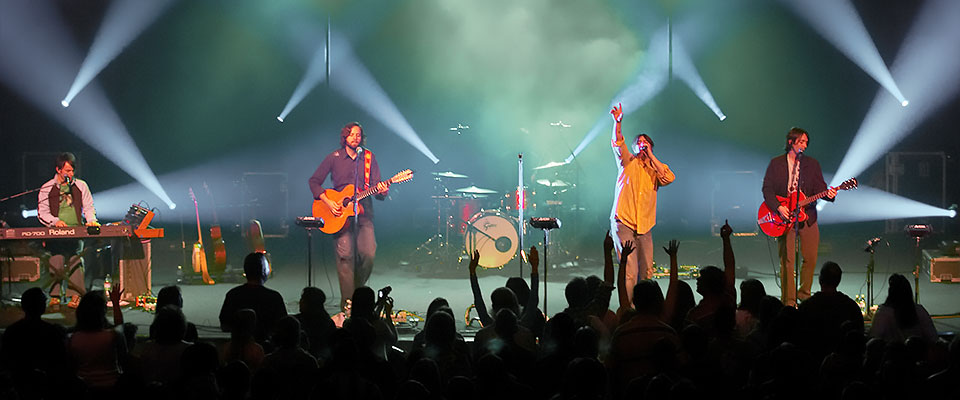 Jars of Clay has been touring with Aviom personal mixers since 2003. The band learned the value of traveling with Aviom early on when they discovered that their Aviom equipment allows them to easily adapt their setup for any number of situations. This flexibility is incredibly helpful on a tour destined for a variety of outdoor and amphitheater venues. Last fall the band kicked off their tour with their new Aviom A360 Personal Mixers.
Their First Aviom System
The band's original personal mixing setup included A-16II Personal Mixers along with A-16R Personal Mixers paired with A-16CS Control Surfaces. Those band members using Sennheiser belt packs for wireless in-ear monitoring had the A-16CSs on stage with the A-16Rs off stage to simplify the wireless transmitter connections. According to guitarist Matt Odmark, "Aviom has given us vastly greater flexibility in monitoring while on the road, has drastically improved the sonic quality of our monitoring experience, has simplified onstage communication, and has basically made better performances possible in the most unlikely of scenarios."
Upgrading to Aviom A360s
The band's experience on the road with Aviom led them to add an Aviom system to their studio. And now after the release of their first independent album, Inland, on their new label Gray Matters, they have started touring with A360 Personal Mixers. Upon receiving their new A360s, Odmark said, "One word: wow. They are very cool. I was unprepared for such a large step up in sonic experience, and all the new features are so usable. . . such great improvements to an already essential item."
A New Way to do Wireless with Aviom
With their A360s the band benefits from the simplified wireless in-ear setup that the A-16R/A-16CS provided but the functionality is in the A360 itself. Using the D800 A-Net Distributor to send audio and power to each of the A360s on stage, the band can also use the Network Mix Back™ feature to send a stereo mix from each of the A360s back to the D800 on the same Cat-5 cable that provides power and audio. Their D800 is connected to an AN-16/o v.4 Output Module that sends stereo mixes to the wireless transmitters they are using. This simplifies cabling and setup so that the band members using wireless in-ears need only have their wireless belt packs and the A360 on stage.