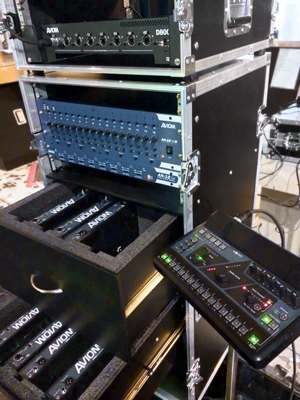 MediaCorp is Singapore's leading media company, spanning television, radio, newspapers, magazines, movies, digital, and out-of-home media. It pioneered the development of Singapore's broadcasting industry with the broadcast of radio in 1936 and television in 1963. Today, MediaCorp has over 50 products and brands in four languages (English, Mandarin, Malay, and Tamil), reaching out to all adults in Singapore every week. Beyond Singapore, MediaCorp is an active regional player through co-productions in TV dramas and movies, magazines publishing, as well as Channel NewsAsia International, one of the first Asian-owned English news channels.
MediaCorp Adds A360s
MediaCorp TV Theatre is the choice venue in Singapore for various programs for recording and live broadcast. Programs such as award shows, multi-cultural variety shows, charity shows, and many festive events fill the theatre's production calendar. MediaCorp TV Theatre has taken delivery of the new Aviom A360 personal mixing system from Coda Group Pte Ltd, the regional distributor for Aviom in Singapore, Malaysia, and Brunei. The Aviom personal mixing system bolsters the theatre's ability to support its programs, especially for those featuring live band performances.
The theatre's current system includes eight A360 Personal Mixers, one AN-16/i-M Mic Input Module, one AN-16/o v.4 Output Module, and a D800 A-Net Distributor. The A360 allows customization of channel button assignment from a pool of up to 64 input channels, something that the theatre's staff and management found to be a beneficial feature for future expansion.
Network Mix Back™ with D800s
Another key feature that stood out to them is the Network Mix Back™ function available via the D800 or D800-Dante. Network Mix Back sends a digital copy of the stereo mix output from each A360 Personal Mixer to an AN-16/o v.4 Output Module for simplified connections to a wireless IEM transmitter system. With Network Mix Back, musicians and vocalists can have wireless freedom via their preferred wireless IEM systems but with simplified cabling to their A360 Personal Mixers.
"We have regular requests from both local and overseas musical program directors for a personal mixing solution for their house bands, and we understand that Aviom is a solution that is most often asked for," commented Peter Tan, MediaCorp's Principal Audio Engineer. "With the right tools, we can be relevant to the ever-advancing production requirements as well as have equipment that can be easily supplemented through Aviom's rental networks in Singapore."
This view is echoed by Coda Group's sales manager, Isaac Eng. "Since the introduction of the first generation A-16 personal mixer some 10 years ago, Aviom has cemented its position as the industry's standard for live performance personal mixing. The simplicity of the mixer layout and easy system setup are essential features for end-users, production equipment rental companies, as well as systems integrators. The Aviom A360 Personal Mixer comes with new functions that are consolidated from years of listening to working musicians and audio engineers to provide the best tool for on-stage personal mixing."