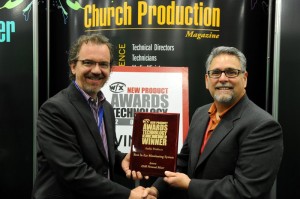 We are excited to share the news that the A360 Personal Mixer won the 2013 WFX New Product Technology Award for "In-Ear Monitoring Systems." Aviom president and CEO Carl Bader accepted the award from editor-in-chief and publisher of Church Production Magazine, Brian Blackmore, at the WFX Block Party last night. Winners were selected by Church Production Magazine, Worship Facilities Magazine and Worship Facilities Designer Magazine editors, distinguished members of the WFX Advisory Board, and WFX management.
According to the WFX Technology Awards judging panel, "Aviom's new A360 Personal Mixer offers next-generation control, new customization options, and enhanced performance and features that are ideal for the church environment."
Bader says, "We are pleased that the A360 has been recognized by the WFX community as an innovative solution for houses of worship. We have had the pleasure of working closely with many houses of worship over the years that have used our personal mixing systems, and we designed the A360 specifically to meet the evolving needs of these customers."
We are psyched about the award and really appreciate Church Production Magazine honoring us in this way.