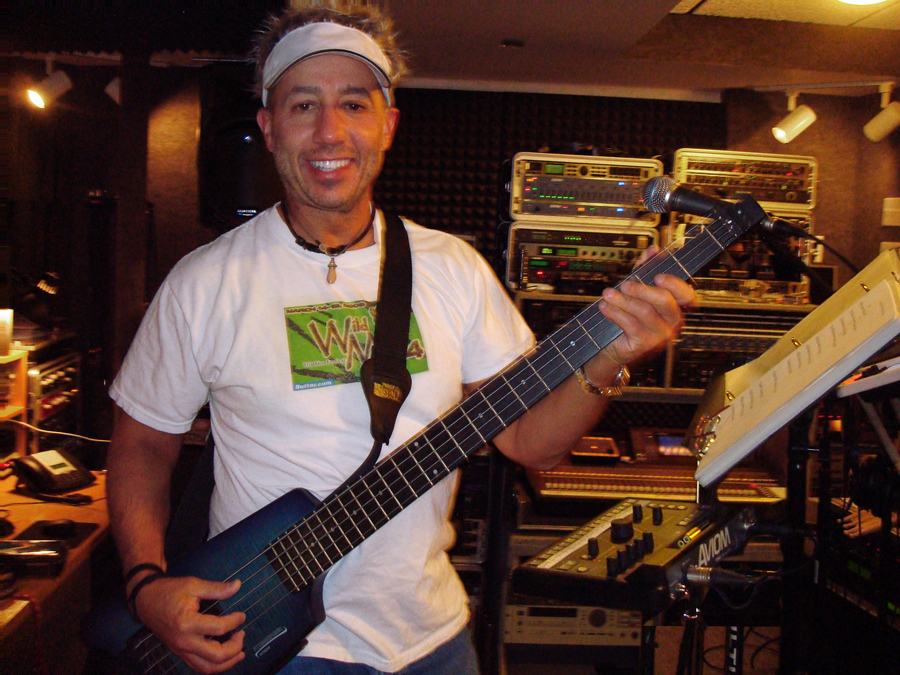 David Waldman is a dentist by trade. But he's also known in the greater Philadelphia area as a member of the band FuseBox, a cover band that plays rock and dance hits. FuseBox just recently started using Aviom's new A360 Personal Mixers. We sat down with David to talk about his experience with the A360. Here's what he had to say.
Aviom: Tell us why you started using Aviom personal mixers.
David Waldman: I have been playing music for many years, and I've been frustrated by the fact that I couldn't really hear the stage mix. My personal mix was very inconsistent from one job to the next. I've worked with in-ear monitors before, and the Aviom system was recommended to me, and it's worked out fabulously.
In-ear monitors worked out pretty well, but I still had trouble with getting the right personal mix. The Aviom system has opened up a whole new doorway to getting things blended absolutely perfectly. The sound is impeccable, and it's pretty intuitive to use. I can't imagine being able to hear anything any better. It's just a great system.
Aviom: What type of console do you use?
David Waldman: We have an 01V96i Yamaha console with an Aviom Yamaha card that integrates the console with the personal mixers. The card was easy to install. It integrated seamlessly, and we just had to plug in a Cat-5 cable.
Aviom: You're a bass player, so you have been using a bass shaker down at your feet. Can you explain that?
David Waldman: At first when I used the A360, I didn't have it set up with the bass shaker. Shortly afterwards I started to use one, and it is a whole new experience because when you play on stage the bass cabinet doesn't really generate the sound waves for several feet, so you really have to be standing pretty far in front of it to feel the music. If you have it up at a loud volume, that's fine, but then that obliterates whatever else you hear on stage, so having the bass shaker platform to stand on allows you to play at minimal volumes and the PA can be adjusted accordingly so the audience hears whatever volume is necessary. But the on-stage feeling is as good as if you had the amp cranked up to unbelievable levels. You can feel the sound going right through you even though the amp is not maxed out.
Aviom: How would you describe the mix that you create as a bass player?
David Waldman: My mix is really ideal now. I can set it up with any kind of EQ. I can set it up with any volume for any particular instrument or vocals. If I want to hear only the bass and nothing else, I can set it up that way. I can adjust the vocals submix. I can adjust the EQ of each of those. It really is as customized as you can possibly get, and it doesn't really take a whole lot of button-pushing or anything else. It is very intuitive and easy to do.
Aviom: Are you using the stereo features on the A360?
David Waldman: Yes. With Stereo Pan-Spread, I can adjust the position of each instrument that I hear in my mix. For example, if the drummer is playing to my left, rather than hearing it in my in-ear monitors in a central position, I can pan it so it sounds like the drummer is actually on my left, which he is. And the same with any of the other instruments. I can pan them so that it gives the feeling that each of the players, each of the inputs, whether it is vocals or instruments, is in a position that duplicates the stage environment. It's as close to a live setting as it can possibly be. And you have no external sound, so it's a very pure sound, very clean. It's a great experience. I'll never go back.
Thank you to David for taking the time to talk with us about his A360 Personal Mixer experience. Visit FuseBox's Facebook page to learn more about them and to find out where they will be appearing next.