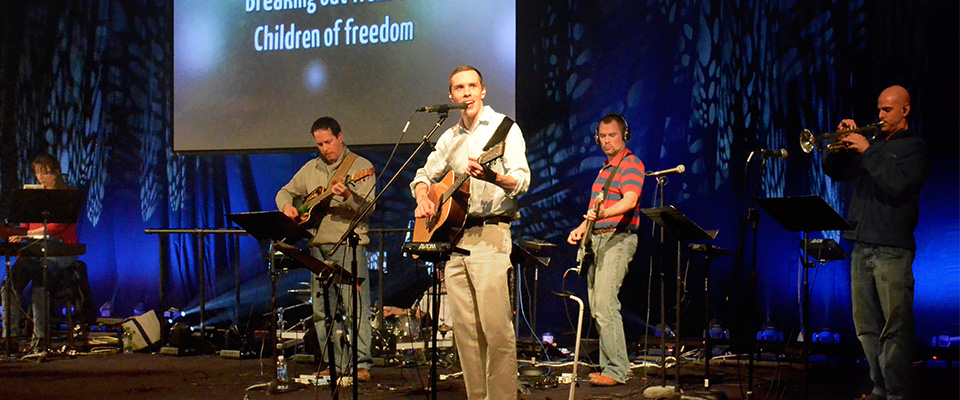 Christ Community Church in West Chester, PA, has been an Aviom user since 2008, and they've  just recently added some A360s  to their system. The original system consisted of an Allen & Heath iLive with an M-MMO-A Multi Out Expansion Card, an Aviom A-16D Pro A-Net Distributor, and A-16II and A-16R Personal Mixers. They've recently added an AN-16/i v.2 Input Module for additional input channels, plus some A360s to use alongside their A-16IIs.
Here's what Christ Community Church's director of worship, Stephen Wilburn, has to say about their new A360 Personal Mixers:
We started with traditional wedges for our stage monitors, and we'd spend 30 to 45 minutes in rehearsal every week just trying to get a monitor mix that worked for everyone.  Usually as the rehearsal went on we'd have to continually go back and make adjustments to the monitor mix, and even then it was never ideal for any of the musicians.  The Aviom units have saved us a ton of time in rehearsals and now everyone can get what they need individually.  As the worship leader, every week I get the ideal mix that I need without having to worry about what the other musicians are hearing.

Using the in-ear monitor systems has also allowed us to incorporate click tracks, backing tracks, and loops in a way we never could with the stage monitors. These have made our team tighter musically and have expanded our repertoire to include more complex and interesting pieces.

The new A360 mixers we recently started using have made the personal mix we all get even better than before.  Being able to add reverb and EQ settings to each channel makes a huge difference in the quality of the sound we get.  And the ability to draw from 32 channels has been essential for some of our bigger events.

Without question using the Aviom units have helped all of us on the team become better musicians, and really freed us up to focus on the worship we've been called to lead each week.  I can't imagine ever going back to the way things were before.

–Stephen Wilburn, Director of Worship
 As Christ Community Church's director of communication, Matthew Schroeder (shown in the top photo in the striped shirt) explains, the church functions much like a "portable church within a facility." The space used for Sunday morning worship is used for other activities and events during the week, so equipment is packed away each week and brought back the next for setup. Using Aviom personal mixers is one of the ways that the church makes this transition easier.
Anything that saves us time and effort in the weekly setup/breakdown cycle is invaluable. By removing the need to haul heavy monitor wedges, and by simplifying our cable setup, our Aviom personal mixers save space and time for our crew in addition to the other benefits they provide.

It's hard to overstate the impact that our Aviom personal mixers have on our worship environment. For years we wrestled with on-stage monitor wedges—it was a frustrating exercise for the band and for our audio engineers that almost always ended poorly. In 2008 we made the switch to Aviom, and we haven't looked back since. The Aviom hardware gives our musicians the freedom to mix to individual taste, our worship leader the flexibility to utilize a click track when needed, and our audio team a "blank canvas" free of uncontrolled stage volume. Most importantly, our congregation experiences a much more engaging worship environment, free of unnecessary distraction. We simply couldn't do what we do without it.

–Mathew Schroeder, Director of Communication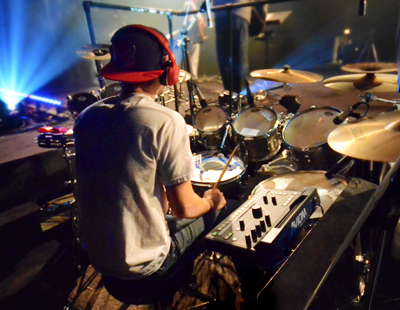 One significant change that upgrading to A360s has made for the church is that the drummer now has access to a customized set of mix channels tailored to his needs, with discrete control over each of the drum channels. To keep things simple for everyone else, the rest of the band uses a stereo submix of the drums.
All of the band members using the new A360 enjoy the new features this unit offers, including reverb, the ambient mic, and the stereo spreading ability.