Next Level Church in Fort Myers, Florida, held its first service for 35 people at Bell Tower 20 Theaters in 2002. Since that first small gathering, they have been steadily increasing their weekly attendance. After moving to multiple services in the local high school and then to a permanent location on Plantation Road, this year the church has opened a second campus on Gateway Boulevard.
Aviom began the journey with the Next Level Church congregation when the church first began using A-16II Personal Mixers in the high school location.This year both campuses of the church have upgraded to Aviom's A360 Personal Mixers for each of the seven services they offer weekly to a total of 3,400 people.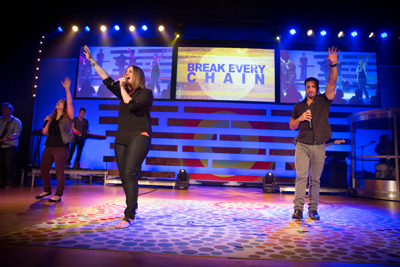 When designing the audio system for the church's new Gateway Campus, the church worked with Harmon's Audio Visual to design an upgraded system that was similar to the one that they had at the Plantation Campus. Jim Harmon, owner of Harmon's Audio Visual, explains, "They wanted a state-of-the-art system that was similar to their existing system so that volunteers who contribute to weekly services didn't have to learn an entirely new system."
Both Next Level Church campuses have Yamaha® M7-CL consoles with an Aviom16/o-Y1 A-Net Card installed. At the Gateway Campus the Y1 card is connected to two D800 A-Net Distributors that feed 10 A360 Personal Mixers. According to Bobby Harmon, systems integrator at Harmon's Audio Visual, "The Aviom system was simple to install and easy to get up and running."
The Gateway Campus opened in March of this year. This satellite campus receives the message via a streamed recording from the Plantation Campus using Haivision's KulaByte™ technology, but worship is led by a live band and worship singers. The church's bands, which rotate through the two churches every three weeks with a week off in the rotation, immediately recognized the advantages of the new features that the A360 Personal Mixers offered.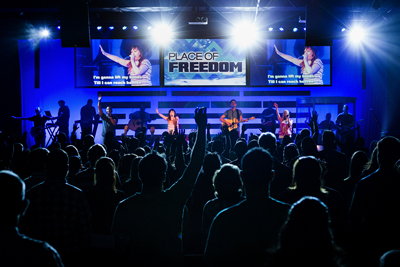 The church's musicians like the new per-channel reverb, One-Touch Ambience™, and Stereo Placement with Pan-Spread™ features on the A360s and claim that they make a significant difference in the their mixes. Gabe Bedenbaugh, the church's production pastor, says, "The A360s really changed the game. The stereo mixing features on the A360 allow the musicians to play more skillfully and to engage more in the worship experience. With the ambience feature, they are now able to get a better sense of how the room is responding during worship." The church also utilizes the reverb feature on the click track to soften it and make it feel less like it's pounding in performers' ears.
After the musicians had the opportunity to experience the A360s at the Gateway Campus, the church quickly realized the need to upgrade the personal mixing system and some of its other systems at the Plantation Campus. They then installed a D800 A-Net Distributor at this location that is used with their existing A-16D Pro A-Net Distributor and another 10 A360 Personal Mixers. Bedenbaugh explained that replacing the A-16II Personal Mixers at the Plantation Campus was "as simple as unplugging the A-16IIs and connecting the A360s in their place."
Bedenbaugh continues, "We love Aviom, and it works really well for us. It's an absolutely great product."