Increasing the total input sources in your personal mixing system beyond the basic 16 channels allows you to get the most out of the A320 and A360 Personal Mixers. Both Personal Mixers are capable of utilizing a stereo input source (like a piano or a drum submix) on a single channel button. The Pro16 network can have a maximum of 64 input sources.
Having more input sources for the network means that you'll need to do one of three things to expand your input sources depending upon which type of system you're starting with:
add another analog input device such as the AN-16/i v.2
add another console card to your digital mixing console
assign more channels to the Dante network
Each of these situations will be covered in detail. Once you have more input sources, setting adjacent channels as stereo pairs will make them appear on a single mix channel button on the A320 and A360.
Analog Inputs
If your personal mixing system uses an analog front end with one 16-channel input module (AN-16/i v.2, original AN-16/i, or AN-16/i-M), adding a second set of 16 input channels in the form of the AN-16/i v.2 Input Module will increase your input source potential to 32. The AN-16/i v.2 Input Module has special circuitry built in that allows it to merge its inputs with those coming from another A-Net device.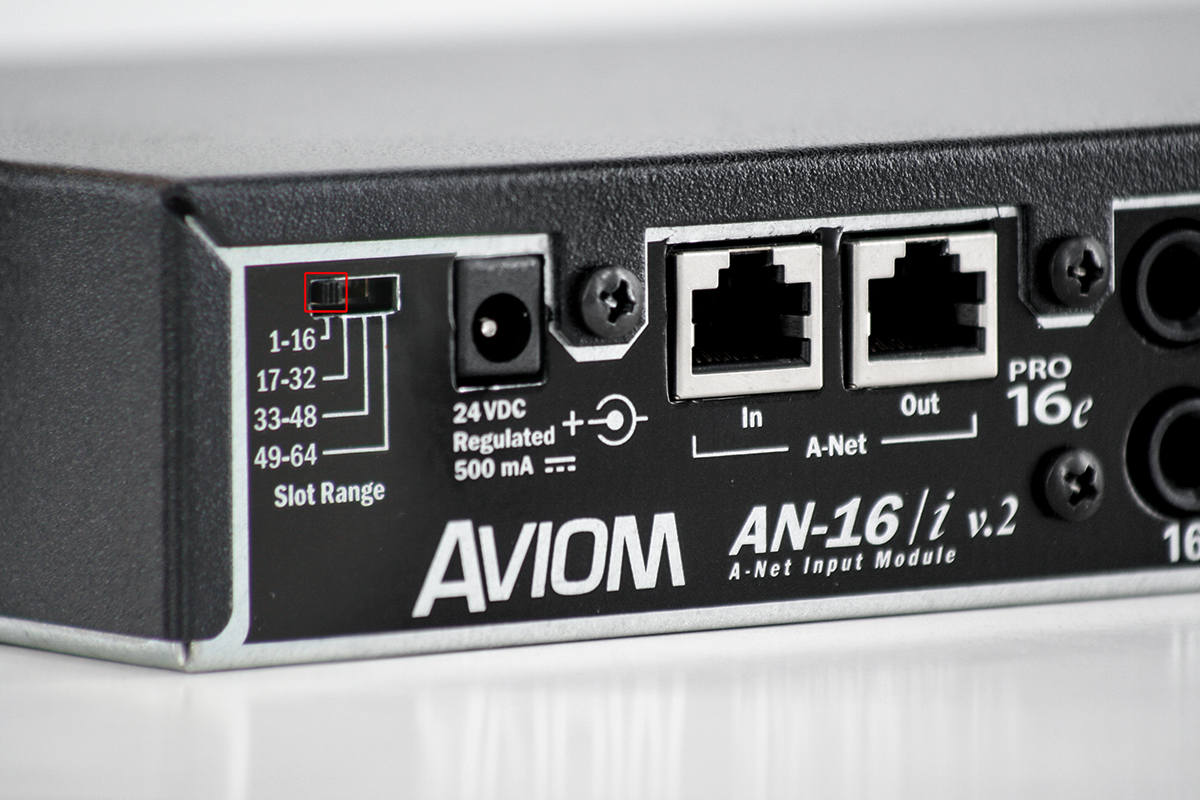 The A-Net In port on the AN-16/i v.2 Input Module can accept the digital A-Net output of another A-Net device. By default, that device supplies channels 1-16 to the network. The AN-16/i v.2 Input Module's 4-position switch (shown highlighted in red here) is used to assign the line-level sources connected to the AN-16/i v.2 as channels 17-32, 33-48, or 49-64 of the network. Just connect the input modules with Cat-5 cables and send the A-Net Out to your A-Net Distributor.
Cat-5 Connections
To extend the network, add more AN-16/i v.2 Input Modules; up to four are supported. Connect the A-Net Out to A-Net In on each module. Each AN-16/i v.2 should be set to a unique channel range.
Connecting an A-Net Distributor
When using the AN-16/i v.2, the A-Net channel merging is done inside the AN-16/i v.2 itself. Its digital A-Net output will contain all the network channels and can be connected to any of the current or legacy A-Net Distributor products. This includes:
D400 A-Net Distributor
D800 A-Net Distributor
D800-Dante A-Net Distributor
A-16D A-Net Distributor
A-16D Pro A-Net Distributor
Channel Mapping

Once you have your hardware set up, it's just a simple matter of connecting and assigning your inputs. The Personal Mixers now treat all inputs as stereo pairs; the Stereo Link switches on the input modules now control which channels arrive at the Personal Mixers as mono (left) and which are stereo (right). The switches are highlighted with red arrows in this picture.
To make understanding this easier, there's a separate post about mapping mono and stereo sources.
In Part 2, we'll cover using digital console cards.